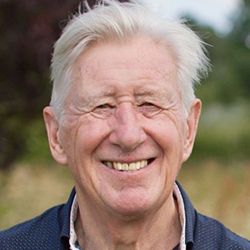 David Stevens
David Stevens International
David Stevens FSGD, FCI Hort is one of the best-known garden designers in the world. He originally trained as a landscape architect and went on to form his own private practice in 1972 having previously worked with John Brookes for three years. He was offered and accepted the first Chair of Garden Design at Middlesex University.
David's 26 RHS Chelsea Flower Show medals, 11 of which have been gold, and three Best Garden in Show awards have ensured his success. He has additionally won three Gold Medals at The Hampton Court International Flower Show and one Best in Show as well as awards in South Africa, Australia and Best Garden in Show Awards at Shizuoka and Hamamatsu in Japan. He won a Gold Award at Gardeners World Live in 2017, this followed by Platinum in 2018, the highest possible. In 2019 he won a further two gold medals at Gardeners World Live.
David has been a gardening consultant to B and Q Retail, Wyevale, Homes and Gardens Magazine and was also chosen as the designer to create a public memorial to Princess Diana at the Royal National Rose Society gardens in Hertfordshire.
He has created gardens for clients over the years as diverse as Bobby Moore in the early 1970's to currently the Duchess of Rutland at Belvoir Castle. David has contributed articles to virtually every gardening publication including The Sunday Times, The Daily Telegraph and The Sunday Telegraph. He is the author of 22 books on landscape and garden design selling many million copies.
He pioneered garden design on television with the acclaimed six-part series Gardens by Design, this being followed by an equally popular series Gardenwise both for the BBC. He has worked as a TV guest presenter for numerous garden shows including BBC coverage of the Chelsea and Hampton Court Flower Shows, Gardeners World, Grassroots, and the long running TVS series 'That's Gardening'. He runs a thriving practice and continues to broadcast and work around the world. He teaches both in the UK and the superb Filoli Gardens in California.