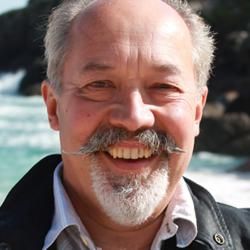 Andrew Wilson
London College of Garden Design
Andrew Wilson is an award winning garden designer, lecturer and writer specialising in the design of contemporary gardens in the UK and internationally. Together with Gavin McWilliam he was a director of the Chiswick based Wilson McWilliam Studio, producing elegant and contemporary private gardens and public landscapes. Andrew and Gavin exhibited show gardens at the RHS Chelsea Flower Show winning Silver Gilt in 2013, 14, 15 and Gold in 2017. They have also exhibited at the Singapore International Garden Festival in 2014, when they won Gold and Best of Show and again in 2016 when they won Silver. They have won many SGD Awards but in 2013 they won the SGD Grand Award for private garden design and took three awards for their work in the SGD Awards 2016. Andrew and Gavin now collaborate on selected design projects.

Andrew is a co-founder of The London College of Garden Design, now based at RBG Kew, and Director of Garden Design Studies. Andrew also lectures nationally and internationally and has taught at post graduate level in landscape architecture. He has been External Examiner for many garden design programmes in the UK and also wrote the world's first MA in Garden Design validated by the University of Wales.

He is a writer and author, regularly contributing to the RHS journal, The Garden, and has been a columnist for Gardens Illustrated. His books include The RHS Encyclopaedia of Garden Design (contributor), Influential Gardeners, The Book of Garden Plans and the Book of Plans for Small Gardens. Contemporary Colour in the Garden with Timber Press, was published in May 2011 along with The Gardens of Luciano Giubbilei with Merrell Publishers. His most recent book, The Small Garden Handbook, was published for the RHS in 2013. He is also the founding editor of The Garden Design Journal.

Andrew judged show gardens for the RHS between 1994 and 2013 and has assessed and judges at the Bloom Garden Festival in Dublin for the past 11 years. He is a past Chairman and currently a Fellow of the Society of Garden Designers. He currently sits on the Society's Adjudication Panel assessing the work of new members and he is also a member of the RHS Education Committee. He was recently voted one of the top 20 most influential people in the UK landscape sector.