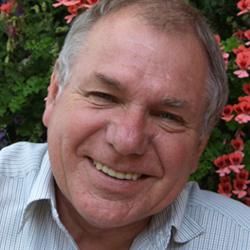 Steve Bradley
Steve Bradley (known as Brad) is a freelance garden writer and broadcaster. He grew up on a rose nursery in Lincolnshire, where he was introduced to propagation in his early teens. From the moment he began budding and grafting the roses, he was hooked. He went on to study horticulture at several colleges, finally achieving the much sought-after RHS Master of Horticulture Diploma.
Following this training, Steve taught horticulture in various colleges for over 30 years, at all levels from amateur to degree. His main subjects during that time were Propagation and Nursery Stock, so grafting remained a particular specialism and the book he would refer to the most was, quite naturally, Garner's Grafter's Handbook..
As part of his studies while teaching, Steve was awarded a Nuffield Scholarship to further his research on propagation in the USA and Canada, visiting some of the most prominent nurseries and Universities. He no longer teaches at a college, but still likes nothing better than to pass on his knowledge and now leads specialist days on various practical subjects for the English Gardening School, based at the Chelsea Physic Garden in London.

Steve has worked for both the BBC and various independent television companies as a presenter and was presenter/adviser on a series of 12 practical gardening videos. He was researcher/ presenter on three official Chelsea Flower Show videos, but then changed sides and became an exhibitor, winning Silver Gilt, Silver and Bronze medals, although the Gold has, so far, eluded him.
His knowledge of gardening is vast and he enjoys testing it on the radio each Sunday morning for BBC Radio Kent or BBC Sussex / Surrey. On each, he answers listeners' questions during a live phone-in in his capacity as resident gardening expert. As these programmes are also on the internet, the range of questions, as well as the reach of his skills, is constantly expanding.
As an author, Steve's many titles include Propagation Basics, winner of the Garden Writers' Guild Award for Best Practical Book of 2002, the Pruner's Bible, Fragrant Gardening, A Year in the Garden and What's wrong with my Plant?
Since 2002, Steve and his wife Val (also a qualified horticulturist) have been gardening correspondents for the Sun newspaper, working with Peter Seabrook. Their page has a regular readership of around 8 million people, who expect quality advice, news and offers. This entails keeping thoroughly up-to-date with new production techniques, products and plants.