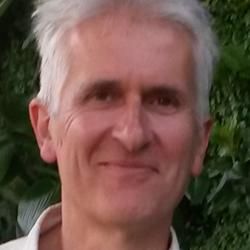 Mark Laurence
Mark Laurence has 40 years' experience as a sustainable landscape designer, contractor, arborist and living wall specialist. He is a committee member of the Society of Garden Designers (Technical & Sustainability) and a Chartered Horticulturalist. Mark has always sought to develop ecological connections with his work and practiced sustainability long before the word came into use.
For the past decade Mark has specialised in Living Walls, developing his patented hydroponic modular system and working in climates as diverse as Norway, Chicago and the United Arab Emirates. He also works in the Middle-East as a designer and consulting Arborist where he has managed the surveying and pruning of hundreds of trees in parks and royal palaces.
Current concerns are developing sustainability standards for the landscape industry and working on an methodology for the restoration of soils in amenity landscapes, for resilience and carbon storage.