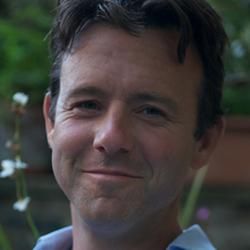 Jonathan Snow
Jonathan Snow began his professional career in the Armed Forces. He was commissioned into the Scots Guards, serving from 1997 to 2001.
After leaving the Army, he spent time in the Middle East, working as a private security consultant in the UAE, Kuwait and Iraq, training soldiers from those countries and running security operations in Baghdad, after Gulf War II ended.
A chance meeting with an old army colleague at the Chelsea Flower Show one year convinced him to take the plunge and enrol on the garden design course at the Inchbald School of Design in 2005. He graduated with a post graduate diploma in Garden Design, a year later.
He subsequently worked for Arne Maynard and then Tom Stuart Smith, before deciding to set up his own practice in London in 2008.
While establishing himself as a garden designer, he occasionally had to supplement his income by returning to the private security world, and found himself in Southern Ethiopia on more than one occasion, working as a liaison officer between a prospecting oil company and the local military. Down time was spent working on garden design projects back in the UK, often from the confines of a sweltering tent in the middle of the desert with a painfully slow internet connection, hoping his clients wouldn't realise he was moonlighting, thousands of miles away.
He now runs a practice in Fulham, (full time, thankfully) with private commissions in London and as far afield as Scotland and Northern France. His Show Garden debut came last year at Chelsea where he was awarded a silver gilt medal for the Trailfinders South African Wine Estate garden.